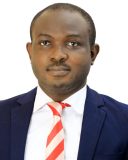 Olujide Oyekunle
Jide is a senior surveyor in the form with cognate experience spanning over 10yrs. He has worked with various reputable Estate firms and properties companies.
He has gathered experience in active practice at various registered firms of Estate Surveyors and Valuers including firms of Messrs G. P. Omozusi and Company, J. Ajayi Patunola and Company and Pade Consulting, a firm with sound property development background.
He was with Pace Consulting (ESV) for 5yrs where he rose to become a Senior Estate Surveyor saddled with the responsibility of overseeing the valuation and property management departments and later an Operational Head. By virtue of his position as the head of valuation department. he has been involved in almost all major nationwide valuation exercise in Nigeria either for Financial Institutions, Govt, individuals and corporate organizations.
He is an associate member of NIESV and also benefited from various property seminars, conferences and workshop within the country.