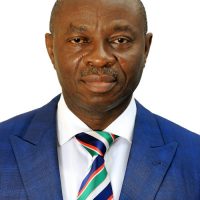 Ademola Adetola
A Chartered Surveyor,  Property Development Consultant and Facilities Manager, Accredited  Mediator, and Capital Market Real Estate Consultant.
Educational Qualifications
Obafemi Awolowo University, Ile Ife Nigeria
(B.Sc. Estate Management) Hons
University of Pretoria, South Africa, Republic of South Africa
Certificate in Commercial Real Estate
RICS International Accredited Mediator
Professional Qualifications
Fellow, Nigerian Institution of Estate Surveyors and Valuers (NIESV)
Member, Royal Institution of Chartered Surveyors (RICS)
Registered Surveyor and Valuer in Nigeria
Professional Member, Nigerian Institute of Management
RIC Accredited Mediator
Member, International Real Estate Federation (FIABCI)
Registered Professional, Financial Reporting Council of Nigeria
Registered Consultant, Securities and Exchange Commission of Nigeria, regulators of the Nigerian Capital Market
Elected – Associate of the Nigerian Institution of Estate Surveyors and Valuers 1991
Elected – Fellow of the Nigerian Institution of Estate Surveyors and Valuers 2004
Appointments
Principal Partner, Demola Adetola & Co- since -1993
Mediator, Lagos State MultiDoor Court House
Assessor- Royal Institution of Chartered Surveyors (RICS)
Member Board of Directors- Life Center Hospital, Ikeja Lagos
Chairman Board of Directors- CRS Stillwater Hospital Magboro, Ogun State
Chairman- Board of Directors – Tolat Properties Limited- A Real Estate Development Company.
General / Past Appointments
Received numerous awards from all walks of life
Attended several local and international conferences
Delivered papers on Real Estate core curriculum and other areas of interest at various local and international conferences including housing and mortgage in Nigeria.
Work-related Curriculum Vitae.
Had been involved with all aspects of real estate consultancy service for the past 27 years and specifically in valuation for all purposes including specialized property valuation and Enterprise valuation.
Had participated in all major national valuation assignments for the Government of Nigeria,  capital market and the private sectors over the last 15 years.