The Lekki central business district (CBD) is the fastest growing piece of commercial real estate located in Lagos State.
Redwind is located directly behind the IMAX Cinemas complex. It is also surrounded by quite a few completed and some on going commercial properties. The Redwind is conceived as a modern office complex and designed with post covid working environment realities in mind.
It is made up of 4 floors and a roof terrace with a lettable area of about 520m2 / floor, at a price of N140,000 per square metre. It is designed to be able to occupy single or multiple users per floor with private facilities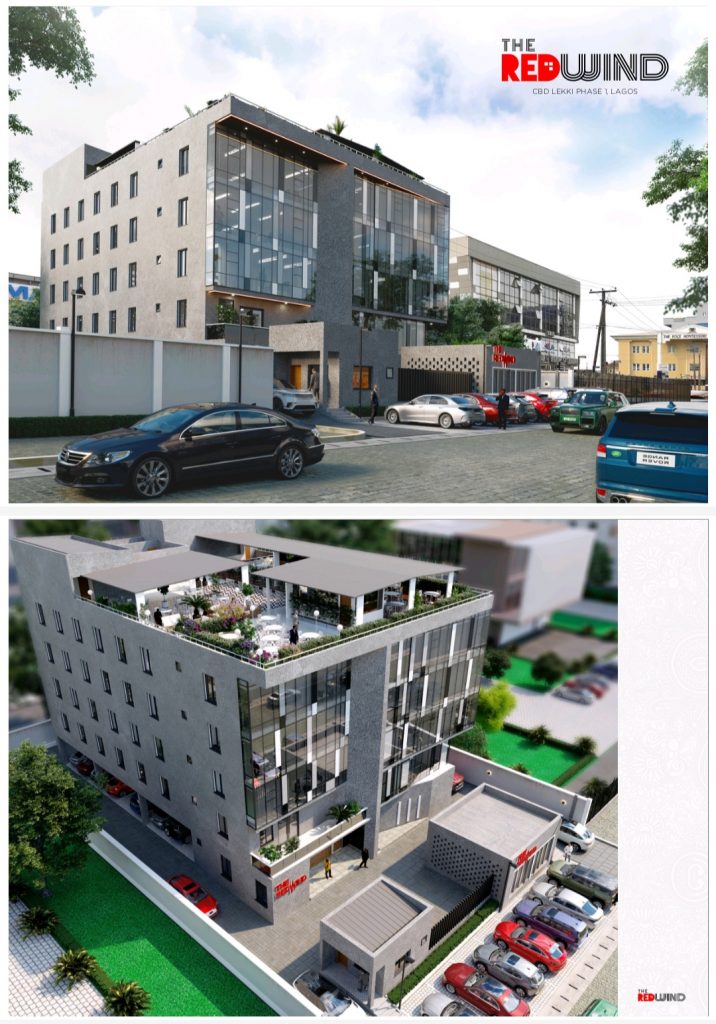 The Redwind is a luxurious fully serviced open plan office spaces located in the Central Business District (CBD) of Lekki phase 1. With over 520m2 of premium office space/ floor. It is the perfect location for companies looking for first class office accommodation with cutting edge facilities configured to be flexible enough to accommodate medium to large sized companies. It comes equipped with the following facilities
* 520m2 Of Lettable Floor Over 4 Floors
* Dedicated Parking Spaces
* Ample Public Parking Spaces
* Roof Terrace Area For Events
* 2nos 10 Passenger Lift
* Fibre Optic Data High Speed Connection
* 24 Hour Power Supply
* 24 Hours Maintenance Team
* CCTV and Fire Detection and Fighting Facilities

It is a fair drive to the Lekki Ikoyi link bridge, less than a 10 minute drive to St. Saviours School, Ikoyi club, places of worship, cinemas, banks and major supermarkets making it easy to attend functions, places of work and more. The location adds to the comfort and functionality of the property. Exquisitely finished with the finest attention to detail, no effort is spared to create a level of comfort that truly appeals to companies that want upscale office accommodation and commensurate pricing.